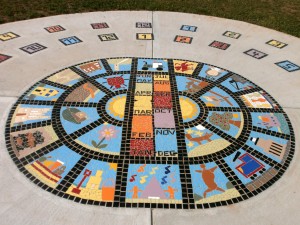 A Human Sundial allows you to become part of the machinery telling the time. It consists of two arcs of numbers set into the ground (British summer and winter time) and a set of months. By standing on the current month your shadow falls onto the time.
Mosaic is the perfect medium to use to create a human sundial. Eye catching, durable and involving a whole school or group in it's creation. It can include extra decorative elements to link to a celebration or locality, and for schools can link to the National Curriculum.
Project requirements:
Level ground, ideally South facing ground – with room for a 6m diameter circle that is free from other shadows at all times.
Materials:
Swimming pool tiles (frost resistant and in a variety of colours), external grade tile cement, grout, concrete paving slabs of various sizes and shapes
Installation:
We will need a sunny day to plot first the North/South line and then East/West, then we plot the numbers and finally the months! The mosaics are on standard concrete paving slabs, laid as any normal slab
Links to the National Curriculum

Mathematics – each sundial is unique and is plotted using a series of calculations, for example the distance between the numbers and the central area are plotted out using an X-Y grid
History – the story of sundials and how different cultures in history measured time
Geography – longitude & latitude & how Earth relates to the Sun
English – the different names for each part of the sundial such as the Gnomon which describes the object or person that creates the shadow
Art & Design – mosaic as a medium, and the sundial itself can be used to express a subject, event or celebration
IT – using computers and the web to work out the calculations and find examples of sun dials across the world
Science – how a sundial works, and other ways of measuring time not involving the sun
Physical Education – you have to place yourself within the sundial for it to work and then you could measure your shadow and see how its length varies throughout the day
Completed projects:
Community of Perretts Park – involved children from three schools, a youth club and under 5's play scheme.
Brading Roman Villa – working with the museum and three local schools to create a sundial for the museum grounds.
Keysham Mencap – working with a summer holiday scheme for Mencap and placed in Keysham Memorial Park.
Bristol Kite Festival 20th anniversary – involved school pupils from Hillcrest Primary School and placed in grounds of Ashton Court.
Bloor Homes – working with two local schools near Bridgewater for their new housing development
Holburne Museum of Art – Brunel Anniversary project to work with pupils from Twerton Infant School to create a sundial for a school in Bath.
Alvaston Park Friends & St. Martins School – Working with the school to create a Human Sundial project for the adjacent park.